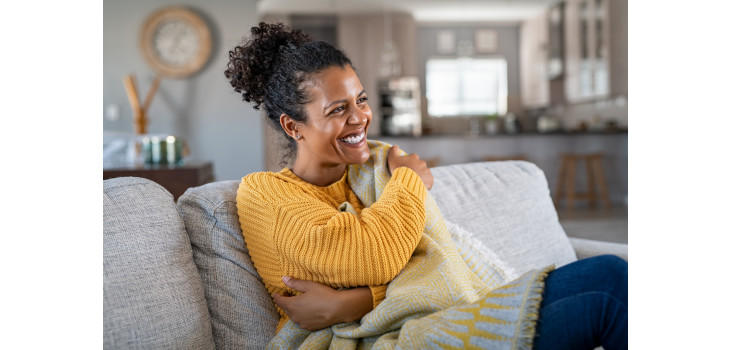 By estefania.solar
Published 2 years ago
Save money and stay warm with these low-cost energy efficiency tips
Winter is here: save money and energy
The winter season is well and truly upon us. As the nights draw in and temperatures fall, coupled with increased energy prices, you need to ensure your home is well insulated during this colder period. Thankfully, there are simple steps to make sure your home stays warm and doesn't impact your finances.
Get back to basics
According to Energy Saving Trust, it's more important than ever to take steps to prevent heat escaping through your windows and doors. This will allow your home to stay warm and at a comfortable temperature, as well as ensuring your energy bills stay under control during the colder months. You can prevent heat escaping by blocking out draughts and insulating walls. This significantly improves the comfort of a home and helps to make your heating controls more responsive.


Top five tips for making cold room warmer this winter
1. Insulate your pipes
Pipe insulation consists of a foam tube that covers the exposed pipes between your hot water cylinder and boiler, reducing the amount of heat lost and keeping your water hotter for longer. It's usually as simple as choosing the correct size from a DIY store and then slipping it around the pipes. Pipe insulation can save around £4 a year on your energy bills. It can also prevent your condensate waste pipe from freezing and stopping your boiler working in extreme temperatures.
2. Install draught excluders
DIY draught-proofing of windows, doors and holes in the home can be a great way of stopping heat from escaping. Homeowners can buy draught-proofing products in DIY stores, which can be fitted quickly and easily.
Draught-proofing windows and doors could save you around £30 a year. If you have an open chimney, draught-proofing your chimney when you're not using it could save around £20 a year.
3. Fit radiator reflector panels
Reflector panels are another way of heating a room at little cost. Fix these behind your radiators to reflect heat from radiators back into the room, instead of letting it out through an external wall. Reflector panels are most beneficial when installed on uninsulated walls, where they could save you around £17 a year.
4. Ensure your walls are insulated
Wall insulation will provide the greatest savings and warmest homes overall. If your home was built after 1920, the chances are that its external walls are made of two layers of brick with a gap or cavity between them. Cavity wall insulation fills that gap, keeping the warmth in and saving energy. The average installation cost for cavity wall insulation is between £450 and £500 and it can save up to £185 a year for a typical semi-detached home. At this estimated saving cavity wall insulation would pay for itself in less than four years.
If your home doesn't have cavity walls, then it's highly likely that it will be a solid wall property. Insulating the solid walls of a home could cut the heating costs considerably. The good news is they can be insulated – from the inside or outside – and this can save around £255 a year in a typical three-bed semi or even £425 a year in a detached home. However, the up-front costs are high and will vary significantly depending on the level of work required.
Consider reducing insulation costs by carrying out the work at the same time as other home improvements, or spreading out the work over a longer time-period by tackling your home's insulation needs on a room-by-room basis.
5. Don't forget your loft
When updating the home to keep the heat in your loft can often go missed by accident. With ceilings one of the to areas heating can be lost, it's important to insulate your attic to stop any more heat from escaping. While most loft spaces in UK homes will have some insulation fitted already, often it's thinner than the recommended standard to gain the maximum benefit. Topping up your roof insulation from 120mm to 270mm could save you an extra £15 a year, in addition to keeping your home feeling warmer.


Finding the right heating system for your home
In addition to implementing the tips above, you might also want to consider making changes to your current energy set up. Try our online calculator to find the best solution for you. Once you have the answers, you can check out the most energy efficient products on our Topten UK website.
Find out more about the benefits of different heating systems available, such as:
Apart from where mentioned, savings are based on a typical 3-bedroom semi-detached property with gas central heating. The electricity price used was 20.06 p/kWh and gas price was 4.65 p/kWh (November 2021).
About HACKS
Heating And Cooling Knowhow and Solutions (HACKS) is a project developed to help transform the market for heating and cooling appliances. Our aim is to help consumers pick products that are more energy efficient, whilst improving their comfort and health.