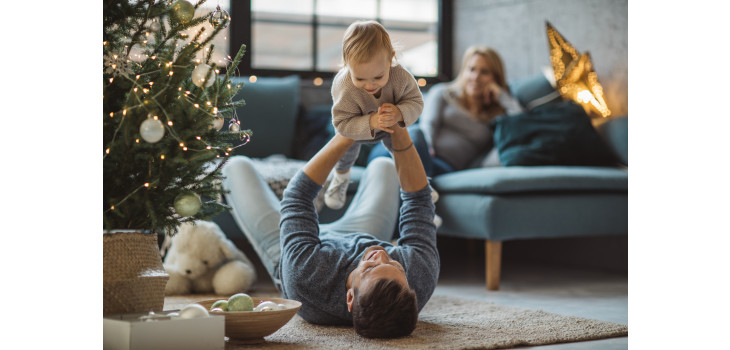 By estefania.solar
Published a year ago
Christmas is often known as a time of excess with new gadgets, twinkling lights and non-stop cooking guzzling up our energy usage at home. Research from Samsung reveals that 30% of people are planning to cut the amount they usually splurge on gifts, food, drink, and parties during the festive season.
Driven by spiralling living costs and higher energy bills - with over half (53%) citing rising gas and electricity costs as a reason to spend less this Christmas - the study found that almost four in 10 adults are worried about household expenditure, with over a third (37%) saying it is 'getting out of hand'. And with the cost of having one guest over at Christmas estimated to be up to £30 per person, according to one fifth (22%) of those polled, the financial squeeze is on.
The research has been commissioned by Samsung to lift the lid on the ways in which Brits are making cuts this Christmas, and crucially, what can be done to help – especially as just under a third of people (29%) said they have no idea what steps could be taken in order to reduce or control their energy bills.
Energy Saving Trust has compiled a list of energy saving tips to help lower your bills over the festive season. Here are some of our favourites:
Get smart with your energy usage
Smart meters measure how much gas and electricity you're using via a remote connection to your energy supplier. They come with an in-home display screen to help you visualise your energy usage and support you to reduce your energy consumption. You can even access your energy data on your smartphone with the help of apps like SmartThings Energy.
Cooking Christmas dinner
Keeping the lids on your pans during cooking uses 10% less energy - and helps food cook quicker.
Spilled gravy down your best Christmas jumper?
Be sure to wash your Christmas jumper at 30 degrees - it uses less energy than higher temperatures and could save you around £10 a year and reduce your carbon emissions by 12kg - or the equivalent of driving 43 miles! And remember to only run the washing machine when it's full!
Turn down the heat
When lots of cooking is happening and the house is full of family and friends, it's the perfect time to turn your thermostat down a couple of degrees, as plenty of heat is already being generated.
Switch off
Whether you're visiting friends and family or are heading to bed, remember to switch off appliances - like your Christmas tree lights - at the plug when you're not using them. This will help save energy and reduce your household carbon emissions.
No more draughts
Once Santa Claus has paid a visit, seal your chimney with a draught excluder to help save around £20 a year.
Power down
In the UK, we spend around £1 million on Christmas day just powering our TVs. In fact, we watch so much TV on Christmas day, the energy used could power 43,000 TVs for one year! Playing a board game or switching off if you're having a nap are great ways to cut down on your TV energy marathon.
About HACKS
Heating And Cooling Knowhow and Solutions (HACKS) is a project developed to help transform the market for heating and cooling appliances. Our aim is to help consumers pick products that are more energy efficient, whilst improving their comfort and health.
About Samsung
Samsung inspires the world and shapes the future with transformative ideas and technologies. The company is redefining the worlds of TVs, smartphones, wearable devices, tablets, digital appliances, network systems, and memory, system LSI, foundry and LED solutions.
Last month, Samsung launched SmartThings Energy, a free service available to download on any Android or iOS smartphone that lets users see exactly how much they're spending on energy in their home – before receiving their bill. In addition, the platform also enables users to set budgets and reduce energy usage, giving more control.
The research for Samsung UK was carried out online by OnePoll throughout 24/11/2021 to 30/11/2021 amongst a panel resulting in 2,000 UK adults responding.