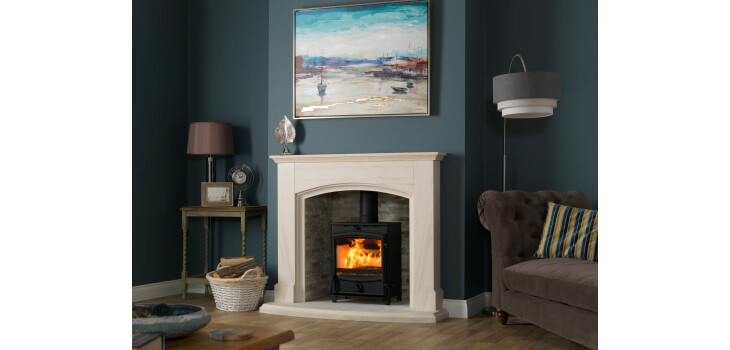 By estefania.solar
Published a year ago
Burning wood in a stove that is compliant with the Ecodesign Regulation for solid fuel space heating appliances, is not only a highly efficient and cost effective way to heat our homes, it is key to delivering our net zero commitments.
Wood burning stoves provide a warming backdrop to family life, creating a sense of wellbeing and the security of heating your home in the absence of gas or electricity. With an estimated two million stove and fireplace installations in the UK, representing a domestic investment of approximately £4 billion in people's homes, wood burning also makes a genuine contribution to economic growth.
The evolution of wood burning
While the practice of burning wood for heat may be prehistoric, the combustion technology employed in modern wood burning stove is anything but.
The Ecodesign Regulation for solid fuel space heating appliances that came into force on 1st January 2022 means that manufacturers must meet tough new standards for efficiency and particulate matter, carbon monoxide, nitrogen oxide and organic gaseous compound emissions. Significant investment in product development has been made over the last five years that has vastly improved combustion efficiency and significantly reduced emissions. So much so, that a modern Ecodesign compliant stove produces up to 90% less particulate matter than an open fire and with less than 1/10th of the carbon intensity of gas, electricity and oil fuel, when wood fuel is used for heating it helps to displace fossil fuelled or electrical heating.
To enable consumers to easily identify the best performing stoves on the market, a new independent appliance certification scheme, called clearSkies, was launched in 2020. All appliances certified by clearSkies have been independently verified as meeting the requirements of Ecodesign, plus a Level 3 clearSkies appliance has also been checked for Defra Exemption which means it can be used within a Smoke Control Area. Furthermore, appliances given a clearSkies Level 4 or 5 rating, have even further reduced emissions and even greater efficiciency than required by the Ecodesign Regulation, representing a new benchmark for appliance efficiency and emissions well beyond what is required under law.
A clearSkies certified stove features the very latest firebox technology that has been specifically designed for more complete combustion and employs secondary and tertiary air systems to burn off excess hydrocarbons, in conjunction with more efficient baffle and aeration systems. A clearSkies stove is more efficient by virtue of its design, but more importantly, it is significantly less polluting.
Protecting the pocket
A wood burning stove costs about a third of the price of electric heating and less than gas central heating for the average household under the current price cap, with that saving set to further increase as fuel prices continue to rise. This cost effectiveness, combined with wood fuel's renewable and sustainable credentials, and the ability to source fuel locally, further reducing the carbon intensity of home heating, means responsible wood burning has a clear role to play in our low carbon furture.
A professionally installed, regularly serviced modern Ecodesign stove used with correctly seasoned wood fuel (e.g. Woodsure Ready to Burn certified) is a very low carbon, low emission, sustainable and cost-effective way to heat our homes.
Here are the SIA's top tips for cost effective, low carbon, low emission wood burning:
Choose an Ecodesign compliant wood burning stove such as a clearSkies certified appliance. If you currently use an open fire or an older, very basic wood burning stove, i.e. one that is 10 or more years old, consider upgrading. A modern Ecodesign compliant wood burning stove releases up to 90% less emissions than an open fire and up to 80% less than a 10+ year old basic stove. Your local SIA Retail Group member can help advise on the best stove for you and your family.
Ensure your stove is fitted and maintained by an appropriately qualified competent person such as HETAS or OFTEC registered.
Only use wood fuel that is 20% moisture content or less such as Ready to Burn certified.
Never use waste or chemically treated wood in your stove.
When re-fuelling your stove, open the door by just a small amount and wait a few moments to allow the pressure in the stove to equalise, before opening the door fully to re-fuel. Close and latch the door immediately after re-fuelling.
Have your chimney swept at least once a year by a qualified chimney sweep. You'll find links to all the main UK chimney sweeping associations via the Federation of British Chimney Sweeps.
For more information on wood burning stoves visit the SIA website at www.stoveindustryalliance.com